Filling an empty seat at the leadership table, expanding a leadership team, or transitioning an executive who is underperforming creates tension within any organization. The importance of the next placement's transition and retention are critical to maintaining organizational momentum.
Prior to this year, organizations across the food value chain experienced everything from unprecedented growth to aggressive downsizing. Leadership responded positively, and some not as well. Serious talent gaps were identified and hiring to fill gaps was understandably put on hold.
Today, the organizations we serve, are experiencing a significant need for talented executives and senior-level leadership. Filling a seat with a qualified individual is not enough. Given the demand for talent, retaining that leader becomes an imperative priority.
Keys for Hiring Executives Who Stay
The power of strong leader within an organization is not only the productivity that he or she brings, but also the impact their leadership style has on the people around them. When recruiting strong leaders there are some best practices to consider.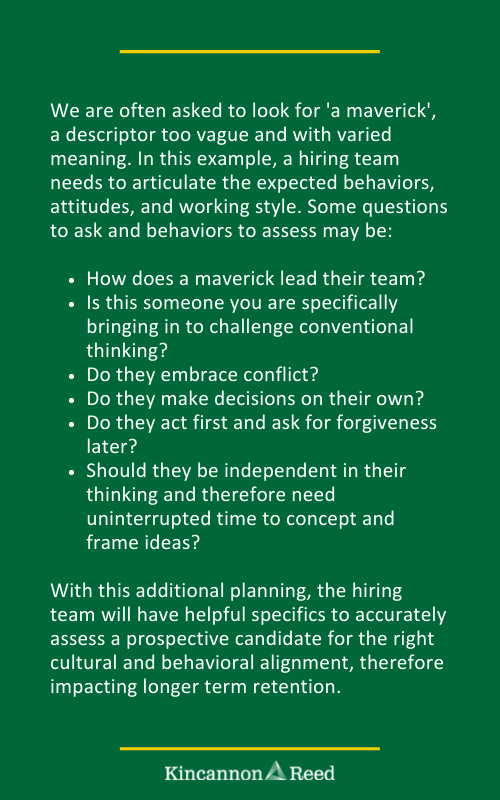 Develop a Recruiting Strategy
Understand your organization and the role you need to fill from a prospective candidate's view. How you represent that role, not just the immediate need but also the future needs, helps to clarify the traits of the individual you are seeking and impacts their retention potential.
In our experience, today's prospective candidates are vetting organizations as much for the future as they are for the present. Their goal is not to transition into and out of an organization quickly, but to stay. To do that, they want to understand the vision of the company and their opportunity to make a positive impact both short and long-term.
Executive recruiting is not a numbers game. Too often, organizations approach executive hiring in terms of the volume of prospective candidates. A recruiting strategy that works to attract and engage prospective executives on an individual basis takes time, but yields leaders who are aligned with an organization, who grow with the organization, and who stay with the organization.
Assess Prospective Executives for Organizational Fit
Greek philosopher, Heraclitus, said, "Change is the only constant in life." This is certainly true in business – and this rapid set of evolving needs means strict role definitions or job descriptions are hard to pin down. To assess candidates, we often look back at their experience and competencies. While these are important, equally so is evaluating a prospective candidate's potential to adapt, change, and lead through unprecedented growth or uncertainty. Thinking strategically and futuristically can help us understand prospective candidates' potential for success and their likely alignment with an organization.
Assessing cultural fit during the recruiting process is equally as important as assessing competencies. According to a global survey of 588 senior executives1 who had recently transitioned into new roles, organizational culture, and politics (not lack of competence or skills) were the primary reasons for their departures. Almost 70% pointed to a lack of understanding about norms and practices or poor cultural fit.
Organizations should consider ways in which the ideal candidate will interact, the expectations of how they will motivate others, and acceptable techniques they may use to course-correct where necessary. Role descriptions can then be developed from these scenarios and used as a starting point when assessing prospective candidates.
Ensure Alignment with Company Values
Compatible values are foundational to a successful relationship between a prospective executive and the hiring organization. The interview process must include questions that assess whether the prospective candidate's values are in alignment with those of the company. Without this, retention is unlikely.
Measure the Results
It's often apparent why employees leave an organization – but it's also important to understand why they stick with the organization.
What we do know is this:
When the recruiting strategy is strong, transitions and team performance are positively impacted.
When executives have a successful transition into leadership, turnover of direct reports is 13 percent lower.2
When new leaders struggle through a transition, it impacts the entire organization; the performance of the leader's direct reports is 15 percent lower and direct reports are 20 percent more likely to be disengaged or leave the organization.2
These metrics illustrate how well recruiting strategies are working, how succession plans and development programs for high potential individuals are delivering, and where they may be lacking.
For the organizations we serve, what we do yields strong results. Placing an average of 120 executives and/or senior leaders per year across the industries of food and agriculture, we find that 98% of our placements are still with the organization at their one-year anniversary. More importantly, our placements are twice as likely to be with the organization on their three-year anniversary compared to results from across the search industry.
Conclusion
Retaining leadership begins long before top leaders are hired. Once hired, retention becomes an ongoing process, conveying to all employees that people are among an organization's top priorities. This sentiment must be backed with policies and practices that confirm employees have been prioritized.
As organizations work to fill an empty seat at the leadership table, expand a leadership team, or transition an executive who is underperforming they must anticipate and be willing to listen to the requests of prospective candidates. Today, successful candidates are in high demand. A strong recruitment strategy should yield not only a placement but also a new leader who stays and grows with an organization.
1 Onboarding Isn't Enough by Mark Byford, Michael D. Watkins, and Lena Triantogiannis. Harvard Business Review.
2 Successfully Transitioning to New Leadership Roles by Scott Keller and Mary Meaney of McKinsey & Company.