C-Suite Leaders ID Top Talent Needs in Changing Times, a Three-Part Series
Introduction
In the rapidly evolving food and agriculture industries, C-suite leaders must be nimble enough to respond to the immediate challenges of rapidly shifting marketplace demands and producing enough food to feed a growing global population, while remaining firmly future focused. Attracting and retaining leaders who can manage that delicate balancing act is a top priority for CEOs and Chief Human Resource Officers (CHROs) across the food value chain.
For this three-part series on future human capital needs in changing times, Kincannon & Reed turned to CEOs, CHROs and other senior executive C-suiters across the food value chain who are thinking deeply about their human capital strategy for the years ahead.
Across the distinct topics of recruitment, retention, engagement and development, a common theme emerged: these companies are seeking talented individuals who:
Are values-focused
Embrace disruption
Navigate this complex industry and its challenging work environment with confidence and empathy
Lead organizations to find innovative solutions needed for future challenges
Across the series, leaders weighed human capital considerations against trends that are reshaping the industry and the workforce in general.
First, the global food and agriculture system will need to innovate to ensure it can feed a population of 9.8 billion by 2050[1] and do so sustainably. To meet that demand, food and ag leaders are juggling a complex set of production, nutritional, and supply chain issues.
Second, two interlinked trends – the Great Resignation, an unprecedented mass exit from the workforce spurred by COVID-19 pandemic, and the emergence of the hybrid workplace – are prompting a fresh look at the leadership skills needed to steer an organization through turbulent waters.[2]
And third, investors are increasingly evaluating companies' Environmental, Social, and Governance (ESG) performance to assess their ability to face future challenges, including the importance of diversity, equity, and inclusion in recruitment, engagement, and retention of executives.
These considerations are top of mind for our most recent executive placements, according to a survey showing newly hired leaders are also grappling with tough questions around attracting, developing, and retaining talent in today's environment. Compared to even a year or two ago, everyone is thinking differently about their human capital needs to be future ready.
What does that future leader look like? We hope this series will help illuminate the answer.
What seems clear however, is that, for these C-suite leaders, this future leader is drawn to an organization's purpose, mission, values, and culture, and they can lead comfortably in a diverse and inclusive world.
They are an individual who possesses emotional intelligence as well as experience, is collaborative by nature, and can guide people through difficult times. Senior executives with these attributes are far more likely to stay engaged and committed to leading their organizations into the future.
And while there's no one-size-fits-all approach to talent, these insights can help organizations transform their future human capital strategy from aspiration to execution.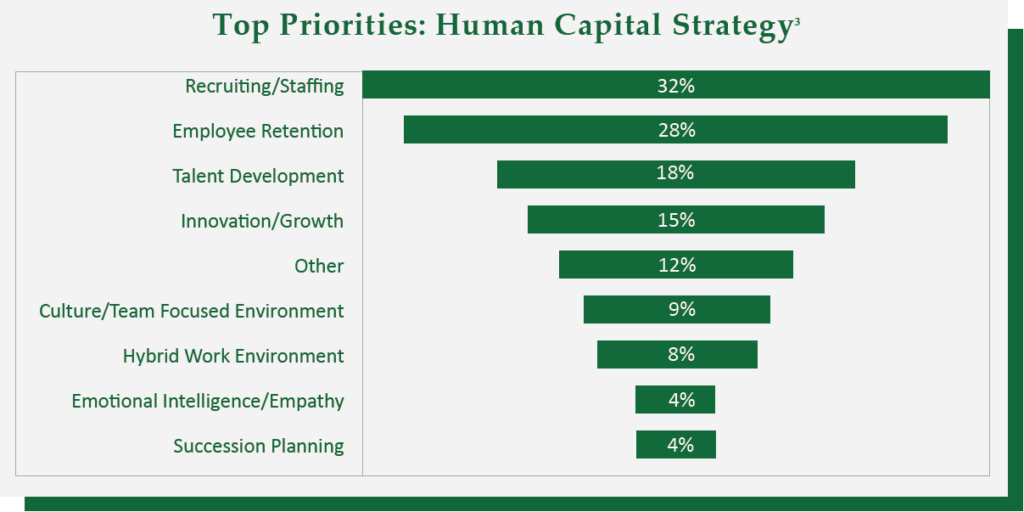 ---
Find all three parts here:
Part 1: Recruitment – "C-Suite Leaders ID the Most In-Demand and Elusive Skills"
Part 2: Retention – "Workplace Culture and Hybrid Demands Front and Center"
Part 3: Engagement and Development – "Keys to Engaging and Developing Top Talent"
Methodology
This series emerged from a set of C-suite interviews on talent strategy conducted in March 2022 by Kincannon & Reed in which seven executives across the food value chain were interviewed. These findings were complemented by a May 2022 survey on human capital strategy among recent Kincannon & Reed executive placements.
Executive interviewees
We would like to thank the following leaders for providing their valuable insights:
---
[1] The World Population Prospects: The 2017 Revision, UN Department of Economic and Social Affairs
[2] "The Great Resignation or the Great Rethink?", Harvard Business Review, March 22, 2022
[3] K&R Survey 10/21/22