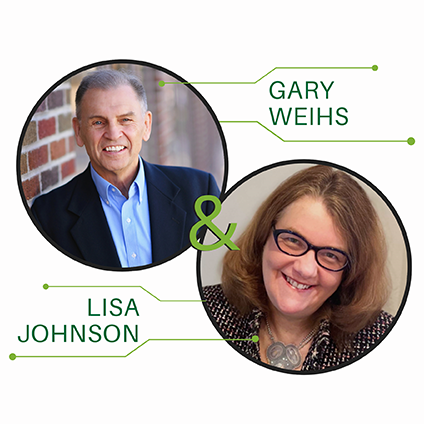 Recently, K&R Principals Gary Weihs and Lisa Johnson attended Unconventional Ag, formerly known as the Organic & Non-GMO Forum. The rebranded event expanded to include additional topics such as regenerative ag practices and plant and cell-based foods while still delivering vital information on the Organic & Non-GMO market.
Two key topics that stood out to the pair included the importance of soil health and the opportunities in alternative protein technology.
Soil Health
Just as a house requires a strong foundation in order to stay standing, crops require healthy, nutrient rich soil to produce the yields required to feed the global population.
Microorganisms within organic matter control 90 percent of soils functions, according to Mark Gutierrez, Executive Director of the Minnesota Soil Health Coalition, making them critical to soil health. An increase of just 1 percent in soil organic matter holds 20,000 gallons of water per acre. Shifting to more regenerative, sustainable ag practices is critical to ensure soil health.
"The impact that organic matter and microorganisms have on soil health is tremendous," Managing Partner Gary Weihs said. "Environmentally speaking, factors such as water quality and the need for inputs like synthetic fertilizer are affected significantly. Leveraging changes such as these would lead to an increase in crop production, a much-needed boost as the global population continues to climb."
Alternative Protein Technology
According to the Good Food Institute, the world will have over a 55 percent food production gap by 2050 if changes aren't made quickly enough. While adopting regenerative, sustainable ag practices are part of this, another avenue is alternative proteins.
Whether it's plant-based, fermentation-derived or cultivated proteins, these products are the result of cutting-edge technology and innovative thinking. And it's not just a plant-based burger or lab-cultivated chicken being developed, products such as infant formula could see the benefits of precision fermentation ingredients if companies are able to scale efficiently.
"There is enormous potential in these technologies and the products they develop to play a significant role in feeding the global population," Managing Director Lisa Johnson said. "The technology is there, so companies need to be prepared to scale quickly to meet market demands."
With historically high prices for crops and extreme volatility forecasted in the future, preparing for the future is paramount. Both agreed that organizations need to ensure the right leadership in place as the market continues to change.
There isn't a one-size-fits-all solution to ease the strain on global food system, but the combination of regenerative, sustainable ag practices paired with alternative protein technologies could change the trajectory substantially.