Earlier this week, FarmHouse Fraternity announced the appointment of the organization's new Chief Executive Officer Dave Hansen.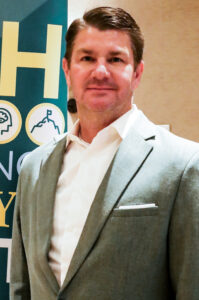 With a rich history spanning over 100 years, FarmHouse Fraternity has grown from a club started on the University of Missouri campus to an international fraternity of 48 chapters and 30,000 lifelong members. FarmHouse has long focused on building a community of members with strong values who are inspired to leave a positive impact.
Hansen is one of those lifelong members, having joined the Fraternity while earning his degree from Iowa State University.
"Dave is both a process and a people person, repeatedly recognized throughout his career as a strong collaborator and team builder," Managing Director Jared Spader said. "Dave is not only passionate about the organization, he embodies the values of FarmHouse Fraternity. As an alumnus, he brings a unique perspective and a deep understanding of the fraternity's impact in member's lives."
As FarmHouse Fraternity's Chief Executive Officer, Hansen is responsible for the organization's strategic plan development and implementation. He will take an active role in facilitating expansion initiatives, creating chapter management programs, and collaborating with the FarmHouse Foundation CEO on leadership training.
Hansen's background includes senior executive roles with companies such as Sears Holdings and Hewlett Packard. Most recently, he served as the Vice President of Transformation & Commercial Shared Services for CDK Global.
"Dave is an experienced people leader with an immense level of business acumen acquired over the course of his career," Managing Partner Jon Leafstedt said. "He's a highly skilled communicator with a demonstrated track record of operational and financial expertise across several industries, which will serve him well in his new role with FarmHouse."