King Ranch, Inc. announces the appointment of Executive Vice President and Chief Financial Officer, Andy Reul. As CFO, Reul brings a strong track record of successful business accomplishments and a wealth of knowledge across various sectors of agribusiness.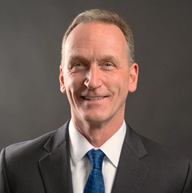 As King Ranch's Executive Vice President and Chief Financial Officer, Reul will partner with the President & CEO and other members of the senior leadership team to develop and implement the long-term strategic growth plan.
"We are at a pivotal time in our evolution as a business. King Ranch is known as the birthplace of American ranching for good reason: our people. We welcome Andy's broad experience and look to him to help lead our team as we seek profitable expansion into new markets while honoring the legacy of King Ranch," said CEO Robert Hogden. "He is a team player, and we are confident he will bring fresh ideas moving forward."
Before joining King Ranch, as CFO, Reul led a diverse global team of more than 250 professionals at Gavilon Group, LLC. While there, he was responsible for numerous aspects of the billion-dollar sale of the company to Viterra. He also initiated and led the company's first leadership development program.
Prior to his time at Gavilon Group, Reul served as the Chief Financial Officer and Board Member at CSC Sugar, LLC., where he provided leadership for numerous functional areas while driving strategic growth. He has also held roles with Bunge, Ltd and Cargill, Inc., over the course of his career.
"King Ranch Ltd. has an iconic legacy that I am excited to be part of," Reul said. "I look forward to continuing the positive momentum of the organization in its commitment to innovation, sustainability and bold growth."
Reul holds a B.S. from the University of Wisconsin – Madison and an MBA in Finance and Investments from The George Washington University.
King Ranch, Inc., is a privately held agribusiness, real estate and natural resource management company established in 1853 with operations in Texas, Florida and California. Headquartered in Houston, Texas and owner of the historic 825,000-acre King Ranch, its operations include various farming activities, livestock production, turfgrass production as well as ownership of King Ranch Ag & Turf, the firms John Deere dealership. The company also operates the famous King Ranch Saddle Shop and a twenty-two year partnership with Ford Motor Co.