Summary of Panel Discussion held at World Agri-Tech March 2023
By Aidan Connolly & Jon Leafstedt
Last week, we had the opportunity to connect with industry leaders in San Francisco at the World Agri-Tech Innovation summit.
During the event, we hosted a panel discussion focused on the talent deficit and the leadership needed to bring innovations from the lab to the field. Aidan Connolly moderated the discussion between industry executives Kim Nicholson of The Mosaic Company, Kevin Heikes of Intent and K&R Managing Partner, Jon Leafstedt. Following are some of the key themes that were discussed: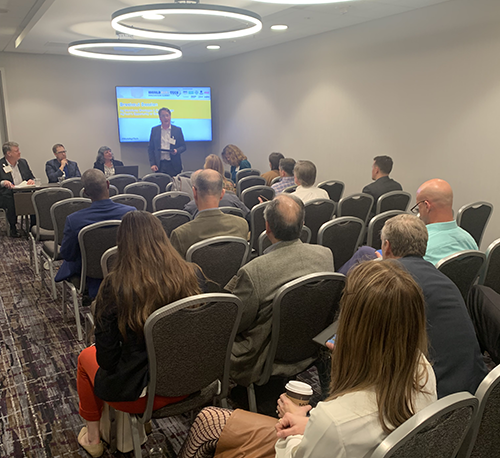 TECHNOLOGY, PURPOSE TO ATTRACT NEW TALENT
We're all aware of the leaps and bounds technology has taken over the past decade alone, regardless of the industry or application. Technology impacts how we operate every day, often raises new challenges in the process; however, technology just might provide the bridge needed to entice new talent to the industry according to the panelists.
"Last year approximately 40 percent of the open agriculture industry jobs were left unfilled," Jon noted. "Every day we hear about the challenges of finding people from dramatically different businesses within the food and agriculture industries. This challenge is the same across the board, though, and we need to find solutions."
When asked how to make agriculture more exciting and how to engage more individuals so that they consider it for a career during our session, Kim cited technology as a leading factor.
"I think technology gives us the opportunity to connect talent to our industries," she said. "We need to show people the incredible technology evolution that has been happening and will continue to happen here. The ag tech and food tech spaces provide the bridge needed to usher in new talent."
A decade ago, we didn't see the data scientists or the machine-learning experts in agribusiness like we do now. The agtech and food tech sectors have exploded with opportunity as organizations work to combat food insecurity across the globe. We've seen the need for highly technical talent in this space mounting here at Kincannon & Reed, but a disconnect still exists between agriculture and technology that needs to be addressed.
Kevin referred to his own experience straddling the line between more traditional growers like his own father and the technical developers in Silicon Valley. While we want to avoid the loss of generational knowledge without sacrificing moving forward with the new generation, balancing the dynamics between the two is challenging at best yet crucial for future advancements in ag technology.
"We need to be on the farm explaining there are more efficiencies that can be had, but also getting those people creating the technologies to the farm because once they see what that lifestyle is really like, a lot of times that changes the way they develop the products and how they're thinking about the agriculture industry."
We discussed not only importance of connecting the seemingly opposite stakeholders in this equation, but also connecting purpose to the position. The panelists agreed that part of making agriculture more appealing is being intentional in the positioning of the work being done inside the company and how it affects the global food system.
Jon summarized what we've seen in the market – that people are looking for a place where they feel engaged and feel like they're making a difference – and how that can be leveraged in the food and agriculture industries:
"When you think of these industries, there is a greater purpose here. There is a nobility in feeding the world that needs to be shown."
SKILLS, CULTURE DEFINE SUCCESS IN TECH COMPANIES
Agtech companies need more than highly technical developers and cutting-edge scientists; they need leaders.
While all the panelists agreed there needs to be some level of technical literacy from leadership, they attributed success to leaders who can communicate in that language or have surrounded themselves with those who can.
Kevin noted that it's not necessary to know how to write code, but it is imperative that we are able to communicate with coders. One suggestion he provided was implementing models and methods utilized by tech giants such as Scrum to improve communication, since that's the language developers speak.
Kim expanded upon that further, reiterating that basic leadership skills beat out the technical know-how when it comes to running an organization.
"No matter if you're leading a very technical business, you're not leading computers or robots – you're leading people. You need to be able to communicate in their language and if you can't, hire strong leaders around you who can be those translators."
The "basics of people leadership" as Kim referred to them, can be applied to any size company. A good leader doesn't necessarily know every detail of the process or product, but instead has a working knowledge of those things in addition to strong leadership skills.
Taking it one step further, our panelists also highlighted the need for leadership to establish a culture that makes top talent want to stay. It's important for organizations to understand the realities of today's talent market and be prepared to put in the effort to retain those they've brought in, especially in startups and early-stage companies just defining their culture.
Referencing the Great Resignation, Jon pointed out several motivating factors that aren't compensation-related, stating how companies that do things like prioritize investing in and developing talent and removing toxic managers are the organizations that see higher retention.
Kevin emphasized how hybrid and fully remote organizations have unique challenges when it comes to culture, but being present and staying engaged can be reflected in small ways like turning on your camera. He said it comes down to being intentional, "It's as much what you don't do as what you are doing."
Creating a culture of transparency and support with leaders who embody those traits and have strong leadership skills can turn the Great Resignation into the Great Attraction for many.
TIMING, EXPECTATIONS KEY IN FOUNDER TRANSITION
The pressure on the global food system requires solutions across the entirety of the value chain, and that provides opportunity for startups and early-stage companies to flourish. That's easier said than done though, given the difficulties faced when commercializing and scaling.
When we look at startups and early-stage companies, we see that the timeframe for the standard milestone hand-offs is drastically different than that of a more traditional business model. What large corporations are doing with organization strategy and succession planning over a number of years, small tech companies need done in a matter of months.
Knowing how and when to approach that transition are critical components to success, something discussed at length during the session, as is determining who makes that call.
When asked, our panelists agreed that the choice of the new leader should reflect the vision of the founder, the input of the board, and above all else the investors. Those with the most awareness or deepest understanding of the business within the market and those who are most objective should be making that call.
We warned against the cultural chasm, so-to-speak, that can occur when executives are parachuted into these organizations without proper alignment. Jon cautioned that just because a leader has spent decades in the industry doesn't mean they'll fit the organization.
Speaking from his own experience, Kevin noted that how problems are approached is what matters most:
"We've had situations where I've looked at a resume of someone that has 30 years in a corporate setting doing amazing things and brought them in to mentor others and they just couldn't mesh… It's not your age, it's not your experience, it's how you approach things."
The consensus of the panel was that putting the best interests of the organization first, rather than that of a single individual or even the founder team, is truly where success lies.
To discuss your human capital strategy with Jon or Aidan, please request to connect with them here.