By Aidan Connolly & Jared Spader
This week we had the opportunity to attend Animal AgTech event held in San Francisco and meet with several executives from startups to early-stage organizations as well as investors. The amount of energy, innovation, and leadership for the Animal Health sector at this conference is encouraging.
The overarching question still becomes "is the industry recruiting talent who will bring forward the innovation and change needed to feed a hungry world?" Together, we had the opportunity to host a roundtable discussion with several industry executives and we focused on two key elements that will deliver for investors:
attracting the right individuals; and
the founder to CEO transition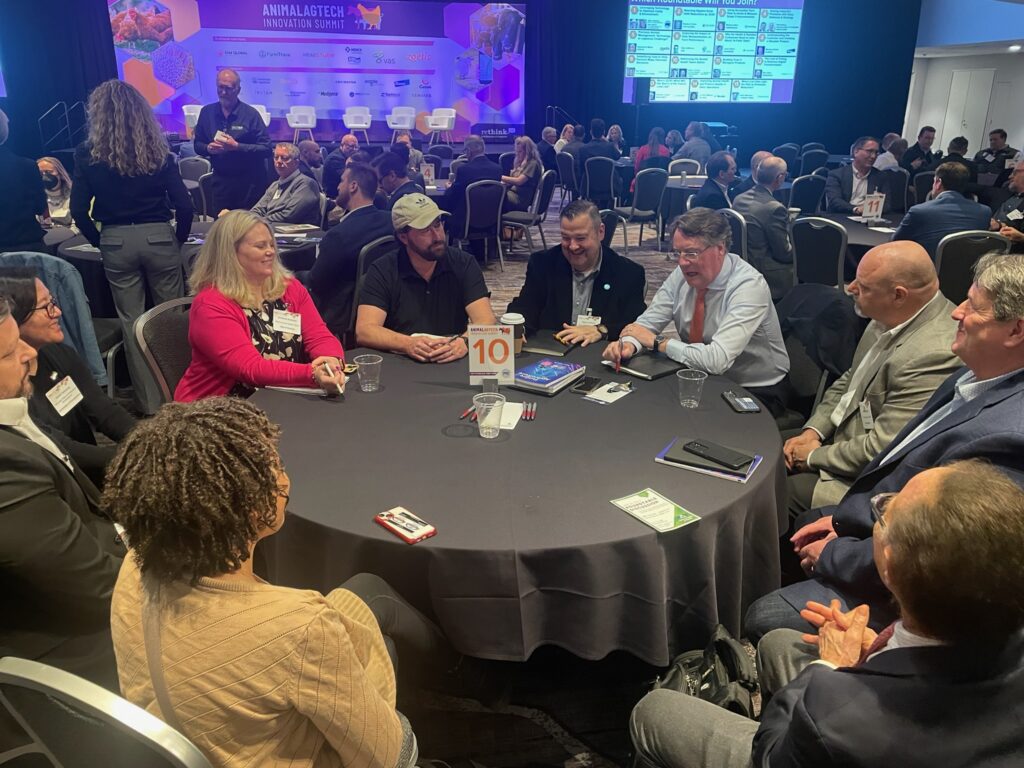 Attracting Talent
There's not just one factor at play here – a handful stood out during the roundtable discussion. Those at the table agreed that in some cases, the Animal Health/Tech industry is battling a perception, and changing that perception needs to start earlier with youth. A new generation is interested in where their food comes from, so as an industry we need to attract top talent and show them how they can be a part of bringing proteins to the table. Our participants noted seeing less education about the agricultural value chain– i.e. how can a student know it as a point of interest if they've never been exposed to it? Students should know the wide range of functions within these sectors, from highly technical and scientific roles to marketing and logistics – it's all here.
Additionally, our roundtable discussion further confirmed conversations we've had with clients regarding positioning purpose. Consumers care where their food comes from, and future employees and organizational leaders look to align their values with an organization more than they ever have before.
Founder Transition
We also discussed the difficult topic of knowing the right time to transition from founder to new CEO and shared experiences on how to navigate changing leadership in startup and small tech organizations.
The group discussed how founders are sometimes so in love with their baby that it takes a lot to be open-minded and ask for input and know when to make the transition. Founders usually understand their own strengths and may know when they need different leadership coming in, but timelines for that transition are frequently driven by investors and a board, so finding a balance between them is essential to success.
Often, founders are looking for the right leadership fit for the technology. They only realize when in the process of recruiting executives that those individuals are looking for the right cultural and organizational fit, with the technology coming in second. Founders need to provide clarity on cultural goals, articulate the purpose and values of the organization, and relate the role's importance within the business to potential candidates. Alignment on those factors is critical to the transition's success, participants stated, and should be at the forefront of discussions during the interviewing process.
The importance of attracting talent to these industries and the transition from the founder team to the experienced scalers in startups and small tech companies was impressed upon us at the event, both at our roundtable and in discussions with executives. The value brought by executive search specialists in defining a search strategy that positions an organization to potential candidates, especially those outside the industry, to assist in such a transition was clear in those conversations at Animal AgTech.
To discuss your human capital strategy with Aidan or Jared, please request to connect with them here.