Leading farmer-owned rice and soybean cooperative Riceland Foods recently welcomed two new executives to the growing organization: Craig Parr as Chief Financial Officer and Lionel Riley as Chief Human Resources Officer.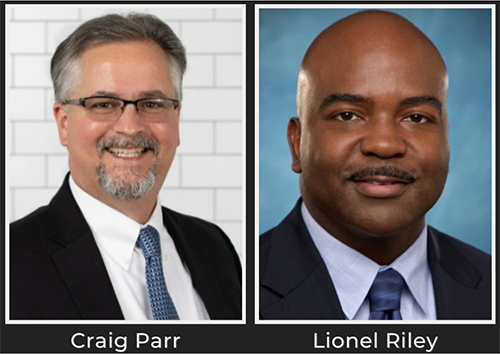 As the coop's new CFO, Parr's expertise will be instrumental in providing financial leadership to Riceland as the organization continues to grow. He is responsible for developing and leading the execution of the coop's capital plan in addition to ensuring the financial well-being of the organization.
Parr served as the Chief Financial Officer at Omaha Steaks prior to joining Riceland Foods. Some of his other roles in his decades-long career include SVP of Finance, Chief Risk Officer, and VP of Risk Management & Food Ingredient Supply for companies such as Flowers Foods and The Andersons.
"A visionary that executes on a tactical level, Craig is a relationship-builder with a passion for the industry," Managing Director Ed Yuhas said. "He brings a collaborative leadership style and immense attention to detail with him to Riceland."
Lionel Riley also joined the team at Riceland Food recently, in the newly created Chief Human Resources Officer role.
As CHRO, Riley will partner with the senior leadership team at Riceland to build best-in-class, employee centric human resources strategies and processes. A significant portion of Riley's responsibilities will center on executing talent management strategies, maintaining the strong entrepreneurial culture of the organization and championing DE&I efforts.
Riley brings two decades of professional HR experience across diverse industries with him to Riceland, including with the US Air Force. Riley has held roles such as VP of People and Culture and Head of Talent Management while simultaneously serving in the military and currently holds a Squadron Commander position.
"Lionel has led the charge for human resource transformation in several organizations and brings a demonstrated track record of success in HR strategy," Managing Director Sally Day said. "His breadth of expertise and ability to connect with all audiences of all levels will serve him well at Riceland."
Founded in 1921, Riceland Foods is an agricultural marketing cooperative providing its 5,500 farmer-members with grain storage, processing and marketing services for rice and soybeans in Arkansas and Missouri. The coop operates six rice mills as well as a soybean crushing and refining facility. As a major exporter, Riceland products are sold national wide and to 75 international destinations.